Business Waste
Total waste management solutions tailored to the needs of your business.
Our Services
From segregation and collection to recycling and recovery, Wastewise provides a wide range of business waste management solutions with unbeatable service levels.
Bins & Containers
Wastewise provides a full range of skips, bins and containers to suit customer requirements which we collect promptly and reliably at your convenience.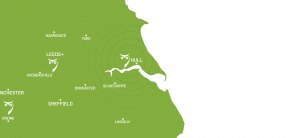 Where We Operate
Supporting businesses across Hull and the Humber
Our professional and reliable total waste management service operates across Hull, East Yorkshire and North Lincolnshire.
Our Customers
"Friendly, dependable and excellent service at a competitive price. Always deliver and meet our service requirements."
Household Waste
We handle waste from over 1.2 million households across the North of England
Waste Treatment
We focus on reusing, recycling or recovering value from waste rather than sending it to landfill
Free Waste Audit
Find the most sustainable and cost effective solution to meet your needs with our no-obligation waste audit.